This is our FAQ area for customers to find more information & see answers from previous customer questions ~
Q:  Do you ship to my country?  
A:  Yes, we ship to all other countries.  In fact, we just added a 1st class postage option (along with our priority option) to make shipping more affordable for our international customers!
Q:  Are your settings sterling silver?  Can you get gold?  
A:  Yes, they are .925 USA grade sterling silver.  I can get quite a few different materials if you read the "New Setting Design and New Metal Offerings" blog!  Please email jtosill@hotmail.com for a quote.  Please note we can only get white or yellow gold in the standard setting.  However, we can get white, yellow or rose gold (or any of the other metals listed) in the designer setting.  
Q:  Do you offer other ring sizes than those listed?
A:  Yes.  We can get any size you need.  While in a ring listing, click on "Size", then choose "Sizing".  You can state the size you need in the note/comment section upon checkout.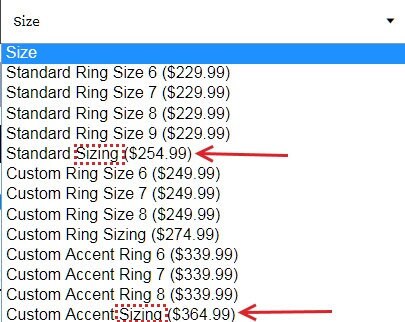 Q:  Why did you change setting styles?  I liked the old one! 
A:  The answer is two-fold.  I wanted to further differentiate Coffin Gems from other people out there selling their coffin-like gemstones.  The settings I had been using were cookie-cutter that anyone could get. The second reason is that I could make designer settings that are sturdier and with a complimentary design that is unique to Coffin Gems.  Additionally the silver content is both heavier and better quality.  I wanted my customers to have a much better product!    
Q: I have a problem with my setting, can you fix it? Is there a guarantee?
A:  Within 3 months of purchase, I will repair/replace any setting.  After 3 months, I cannot repair/replace the standard settings anymore.  However, I do guarantee my designer settings for the life of the design (providing it has not been abused). Please see the question above and the "Standard vs Designer Settings" blog for more information. 
Q:  I sent my piece of jewelry back to you, did you receive it?  Is it done? 
A:  Did you print out the invoice for the redo/upgrade or the email log?  How about the name and address that you used to purchase it?  Maybe the Etsy receipt number?  So far I have been pretty good at "solving mysteries", however your jewelry gets a lot resolution if you include a note or invoice or something that identifies what I am doing for you!
Q:  I heard you had layaway!  What do I need to do?
A:  Yes, we do!  Please see the blog post "Layaway - Process and Policies" for more information and how to set up a layaway.  
Q:  I want to sell your jewelry, do you offer wholesale pricing?
A:  While I can sell the gemstones themselves for crafty people to incorporate into their designs at a wholesale price ($1,000 min order); due to labor costs, the finished jewelry is not available for wholesale sales.